Blog Introduction: The new year is fast approaching which means it's our favourite time of year for new trend predictions. The past couple of years have opened people's eyes to the central role the kitchen plays in the home. The importance of having a multi-purpose kitchen has increased as we continue to spend more time at home. We've got decades of experience in custom kitchen designs incorporating personality and functionality to increase the value of your home. From eco-inspired spaces to bold colours, we've put together the predictions for the top kitchen trends in 2023 to help you plan your kitchen renovation.
Minimalism
Minimalism is not going out of style any time soon. Every decade, minimalism means something new. In recent years, there has been a rise in popularity of minimalism. This aesthetic is characterized by clean lines, simple shapes, and a focus on function over form. In the kitchen, minimalism can be achieved through the use of stainless steel appliances, Sleek cabinetry, and countertops made from natural materials like stone or wood.
One reason for the resurgence of interest in minimalism may be the increasing prevalence of small homes. As land becomes more expensive and people are downsizing, they are looking for ways to make their smaller spaces seem larger. Minimalism can create the illusion of more space by decluttering surfaces and using sleek, unobtrusive furnishings.
Another reason for the popularity of minimalism may be the increased focus on health and wellness. We are now more aware of the link between our physical and mental health, and many of us are seeking ways to reduce stress in our lives. A minimalist kitchen can be a haven from the chaos of daily life, a tranquil space where we can prepare healthy meals for ourselves and our families.
The rise in popularity of minimalism has led to an increase in demand for sleek, modern kitchen appliances. Stainless steel appliances are not only stylish but also easy to keep clean. When combined with other minimalist elements such as Sleek cabinetry and natural stone countertops, they can create a kitchen that is both beautiful and functional.
While minimalist kitchens are often associated with white or neutral colors schemes, there is no rule that says they have to be bland or boring. You can inject personality into your kitchen by incorporating pops of color through your dishes, washrags, or even small appliances. Adding a few green plants can also help to liven up a minimalist space.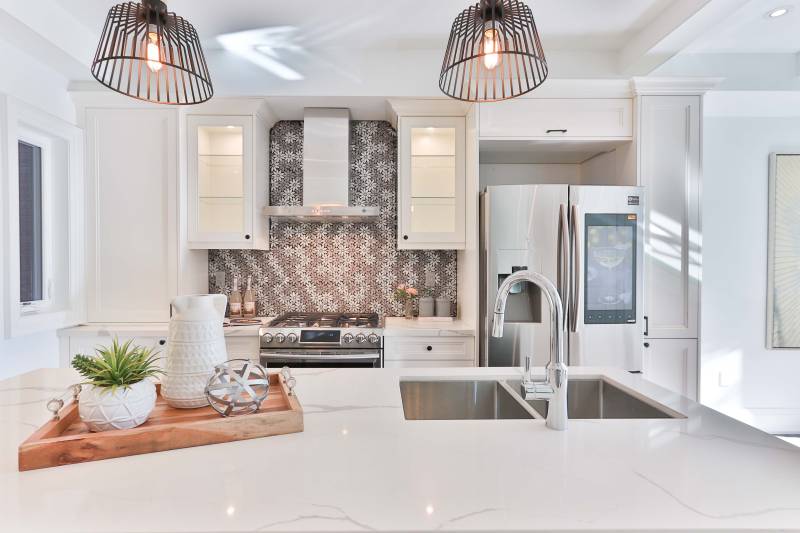 All-black Kitchens – How to Pull Off the All-Black Kitchen Look
Most people shy away from an all-black kitchen because they think it will be too dark and dreary. However, if done right, an all-black kitchen can actually be quite spacious and bright. The key is to use different shades of black and to add in some other colours as accents. For example, you could paint your walls a deep black and then paint your cabinets a lighter shade of black. Or you could use black appliances and countertops with white walls and cabinets
If you're feeling daring, you could even add in a pop of color with your backsplash or wallpaper. Just make sure that the colors you choose complement each other well. You don't want your kitchen to look like a yin yang symbol!
All-black kitchens are the perfect way to make a statement without going over the top. If you're thinking about trying this trend in your own home, be sure to use different shades of black and add in some other colors as accents. You should also make sure that your kitchen is well-lit so it doesn't feel too dark and dreary. With these tips in mind, you can easily create an all-black kitchen that is both stylish and functional.
Light
Another important tip is to make sure that your kitchen is well-lit. An all-black kitchen can feel quite oppressive if there's not enough light coming in. So, if possible, try to install more windows or add in some additional lighting fixtures. You could even opt for lighter coloured lightbulbs to help brighten up the space.
We are also seeing a rise in popularity for two-toned kitchens. This trend allows you to play with different colours and materials to create a unique look that reflects your personal style. Two-toned kitchens are perfect for those who want to add a pop of colour or personality to their space
Another big trend for 2023 is eco-friendly kitchens. As we become more conscious of our impact on the environment, we are looking for ways to make our homes more sustainable. Eco-friendly kitchens incorporate energy-efficient appliances, recycled materials, and low VOC paints and finishes. If you're looking to create an eco-friendly kitchen, there are many options available to suit your needs and budget
There you have it! These are our predictions for the top kitchen trends of 2023. Minimalism, black kitchens, two-toned kitchens, and eco-friendly kitchens are all big trends that we expect to see more of in the coming year. What trend are you most excited about? Let us know in the comments below!