Art is a possession; it's a gift created from the artist's innate imagination. Art can be an investment if you know how to choose well. The quality of art you buy does not solely rely on how much the price, how famous the artist, or where it was exhibited. Nonetheless, regardless of the factors mentioned, the art you buy must have a personal relation to you or something that you will never get tired of looking.
When you buy art, the first thing you look at is the holistic image it portrays. Your interpretation might quite different from the artist's but as long as there is something in it that captures you, then it might be worth buying. Hence, if you're planning on becoming an art collector, here are some golden rules to put you on the right track:

The Golden Rules of Buying Art
Buy An Art That Brings That Fluttering Feeling in Your Gut
If you don't love it, don't buy it. It may be the most expensive art in the gallery, but your heart says the opposite, then it's definitely not for you. Displaying an art piece on your wall that says nothing to you will be a torment. You will hate it every time you take a glance. If the art resonates to your innermost feelings, then it is the art worth buying.
There's No Rush, Go Spend Your Precious Time
Buying art is like shopping for that perfect dress for your wedding. It takes time to find that one perfect piece that will give you the chills. It is inevitable for you to be astonished as you enter the gallery. There will be countless options laid out for you to choose from. However, buying art takes meticulous evaluation to know whether or not it will be either an eyesore or entertainment for you. Hence, go spend your precious time indulging in galleries to find the one that speaks to you as no other art can.
Do Your Research If It's an Investment
Some art collectors simply buy art for their own satisfaction. While some buy art and consider it a future investment. Art nowadays is valued as much as a house or a lot. It's value don't depreciate, but instead, it appreciates as it gets older or when the artist is already six feet underground. Weird? Well, take a look at the art pieces Sotheby's auctions. The older the art the higher its value. As long as it shows off incredible brush stroke techniques and poignant representations.

Give It Focus, Cohesion is the Key
If you are planning on flaunting your art collections to your home, it is ideal to stick to just one canvas or aesthetic. Be it a painting, an art installation or a sculpture, choose art pieces that cohesive to the ones you already have. You wouldn't want to be looking at a wall cluttered with a diverse style and patternless flow, right? Thus, if you want to fill your home with incredible art, at least make an effort to buy pieces that form cohesion and seamless flow in your home. You can mix and match different kinds of art but consider how they will look when displayed side by side.
Moreover, if art for you is an investment, do not go splurging on multiple cheap pieces. Instead, go big and choose one that has a greater value and will be garnering more value in the years to come. It is a common mistake for collectors to buy art pieces here and there that leads to a poor art collection.
Be Bold and Extravagant
Art pieces are intended to move you. A subtle art can be alluring at first, but it can also be boring in the long run. Bold art, on the other hand, will spark conversations and inject a feeling every time someone looks at it. If the art piece in front of you do so, then it could be something worth hanging onto your living room wall.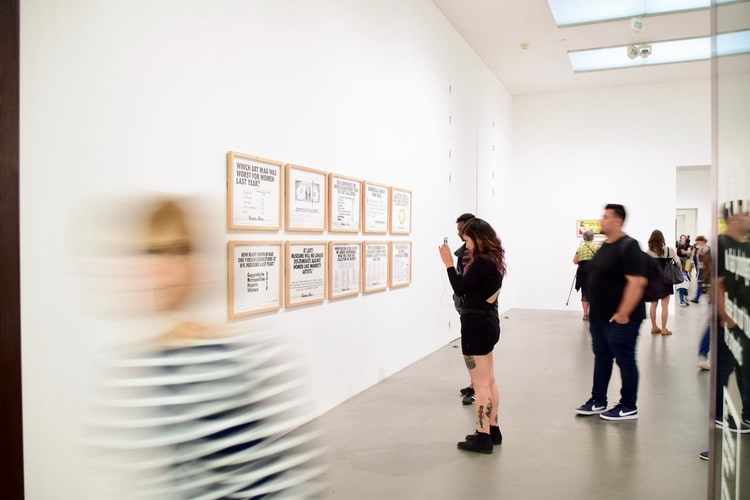 Moreover, entering a gallery can be intimidating. But if you are there for the right purpose, then do not hold back and show off your bold and extravagant personality. Art dealers may talk to you in jargon, but don't hesitate to ask if you can't decipher his/her terms. It is your money that you will be spending, hence, don't waste it on some mediocre overpriced trending art pieces that will be of no value in the future.
The above video is a compilation of the recent artworks auctioned at the Sotheby's. Sandro Botticelli's masterpiece "Young Man" was first sold last 1982 for $1.3M. Now, it was sold for $92.2M in a matter of a few minutes of bidding. Valuable artworks like Botticelli's can garner a lot of value in a matter of a few decades. It is truly an heirloom you can pass on to the next generations, or, an investment that will bring in a lot of fortune to your family.
Mistakes are a part of art collecting. The more experience you have the easier it will be for you to evaluate the real value of the piece. Hence, if you are opting for a life filled with colourful artworks, delve into the world of art and see the world from a different perspective.